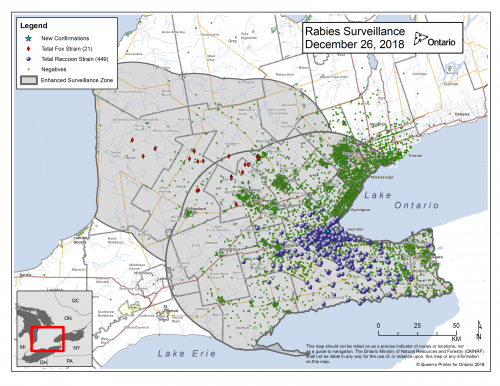 In December 2018, 1 new case of rabies raccoon strain in one skunk (Hamilton) was identified. Currently there are 449 cases of raccoon strain, and 21 cases of fox strain rabies in Ontario to date.
For updates related to the rabies situation in Ontario follow http://OntarioAnimalHealthNetwork
What is Rabies? This almost always fatal disease is a threat to our pets.
Find out more here: Ontario Association of Veterinary Technicians Rabies Response Program
http://www.oavt.org/view.asp?ccid=558&fbclid=IwAR1NkFfAf-Kz6-TIWueq9Iw7jSEJgRw0ZfSz_oIkh6RhPxMATUxGv_Y-3dQ
Contact your veterinarian today to learn more about vaccinating your animals for rabies, or to determine what you should do if your pet has come into contact with another animal that may have rabies.